Our Process
Purpose
The primary purpose of ORBITlab is to develop novel ophthalmological medical devices.  This is accomplished by an interdisciplinary team of faculty from UIC Business, Design, Engineering, and Medicine.
Method
ORBITlab has developed an aggressive timeline to design ophthalmological devices.  This timeline consists of four phases, each punctuated with a checkpoint to validate that the project is appropriate for ORBITlab: project selection, needs finding, ideation, and implementation. Project selection begins with the solicitation of projects from the Department of Ophthalmology & Visual Sciences faculty.  As Ophthalmology faculty submit their project ideas, ORBITlab works together with the Office of Technology Management (OTM) to determine which project to pursue.  Projects are selected considering three primary factors: technically feasibility, real-world need, and market viability.  The remaining three phases then pertain to a single selected project.  The needs finding phase consists of secondary research, primary research, and synthesis/analysis.  The ideation phase consists of concept generation, whereas the implementation phase consists of fabrication, testing, and refinement to generate a functional prototype device. 
More on the resources we employ in our process can be found via the resources tab.
Output
ORBITlab will generate a needs assessment, a market assessment, a technology assessment, and a functional prototype with preliminary verification testing.  These deliverables are provided to the project solicitor for further development or submission to OTM.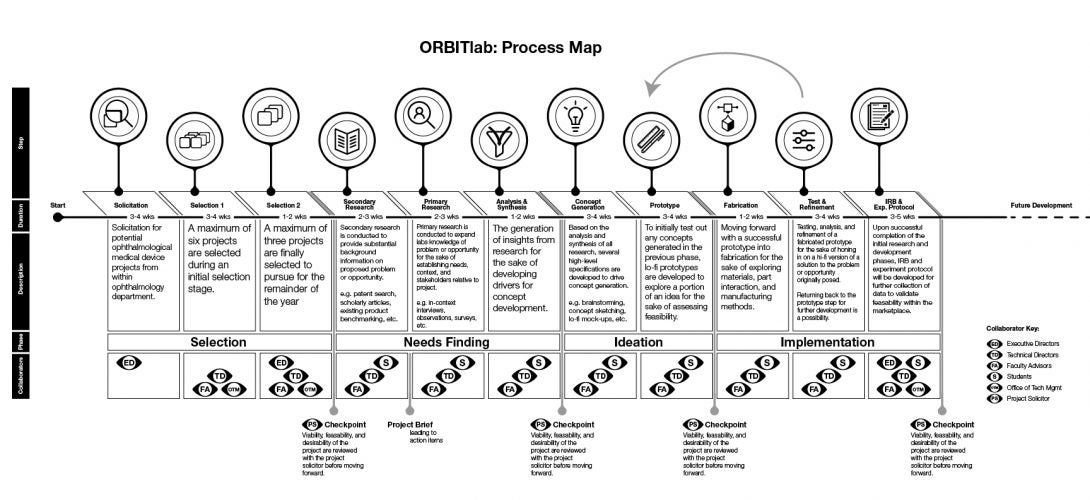 The ORBITlab process
Have you encountered a problem or opportunity within your ophthalmic practice or research?